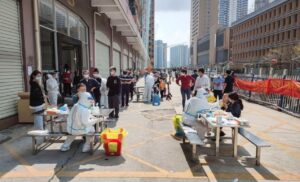 The authorities said fewer cases were being found by mass community tests. Photo: AFP
The southern Chinese city of Shenzhen is prepared to allow business to reopen and resume production as the Covid-19 outbreak appears to be getting under control, the local authorities said on Thursday.
Huang Qiang, deputy secretary general of the city's government, told a press conference citywide mass screening has gone smoothly since a week-long lockdown began on Monday. There have been fewer confirmed cases from community screening in recent days and most new cases were from quarantined close contacts or areas placed under restrictions.
On Thursday, Shenzhen reported 71 symptomatic cases and 20 asymptomatic cases, as China logged more than 2,400 local infections nationwide.
At present, at least three districts have not reported any new cases in the past few days, he said.
However, he noted that Shenzhen still faces the risks of new imported cases or a resurgence as its daily caseload remains relatively high and the disease is still spreading, especially in the city's overcrowded urban villages.
"We will keep conducting citywide mass screening … to quickly identify the infected and cut transmission links," he said. "At the same time, we are building a strong line of defence against cases from outside the city."
Huang also said that the government has put getting factories and businesses up and running on the agenda.
"We will organise the resumption of work and production in an orderly manner, guide enterprises in areas such as the disinfection of factories, monitoring employees' temperature and improving ventilation in staff canteens," he said. "We will also provide businesses with practical help to resolve problems like manpower, capital and raw materials."
Shenzhen announced a week-long lockdown, shutting down public transport on Monday, after experiencing on-and-off outbreaks since January.
Residents are only allowed to leave home with special permits, if at all, while thousands of medical staff and volunteers have been mobilised to carry out three rounds of citywide mass testing and door-to-door inspection.
A resident in Shatou near the Hong Kong border, where the urban villages are concentrated, said many buildings in the area have been sealed off after infections were found.
"We were told last night to pack one bag [of essentials] and wait for centralised quarantine," he said.
Previously, he has been under home quarantine for more than 20 days, only allowed to leave home to pick up food delivery and for the daily nucleic acid tests.
Others in the area said while they have not been sent to centralised quarantine, it was uncertain when life would go back to normal.
Currently, all shops are closed except for supermarkets and restaurants that are providing takeaway services, a housing agent said, adding: "We haven't been able to make any money for months."