
Category
Business
,
CLS
,
Engineering
,
Foreign Trade
,
Industrial
,
Italy
,
Logistics
,
Quality Management
,
Supply Chain
,
Technology
,
Transport
In our last article about Italy and its commercial relationship with the world, we talked about the key economic sectors of this country, with the secondary sector representing 21.4% of the GDP. The country's industrial activity is mainly concentrated in the north, in cities such as Turin, Milan, and Venice. It is important to mention that an important part of the Italian industry is made up of small and medium-sized family businesses with less than 50 employees.
Italian machinery industry during 2020
In the specific case of the machinery industry, according to data from the Union of Italian Machine Tool Manufacturers (UCIMU) (2020), in 2020 production fell to EUR $ 4.97 billion, which represents a decrease of 23.7% compared to the previous year. The result was determined both by the drop in deliveries from Italian manufacturers to the domestic market, which fell by 28%, to EUR $ 2 billion, and by the negative trend in exports, which fell by 20%, up to EUR $ 2.8 billion.
Consumption of machine tools, robots, and automation in Italy fell 30.3% to EUR $ 3.3 billion, penalizing both, deliveries from Italian manufacturers and imports, which fell 33.4% to EUR $ 1.2 billion million. By contrast, exports rose from 55.3% in 2019 to 57.9% in 2020.
As for the exports of machinery in general, according to data from the ITC (2021), they fell considerably. The first destination country for the "Made in Italy" sector is Germany and its sales fell to USD $ 13.7 billion; followed by the United States, (USD $ 12.1 billion); France (USD $ 9.9 billion); China (USD $ 5 billion); Poland (USD $ 4.3 billion). In the case of Mexico, machinery exports from Italy to Mexico in 2020 were USD $ 1.4 billion.
Machinery Industry in the first half of 2021
According to the Order Index, created by UCIMU, the results were favorable for the first semester of 2021, since it registered an increase of 88.2%. Domestic orders grew 238% compared to the January-June 2020 period. While foreign orders registered an increase of 57.5% compared to the first half of 2020. These positive results demonstrate a climate of renewed confidence towards Italian companies in the sector.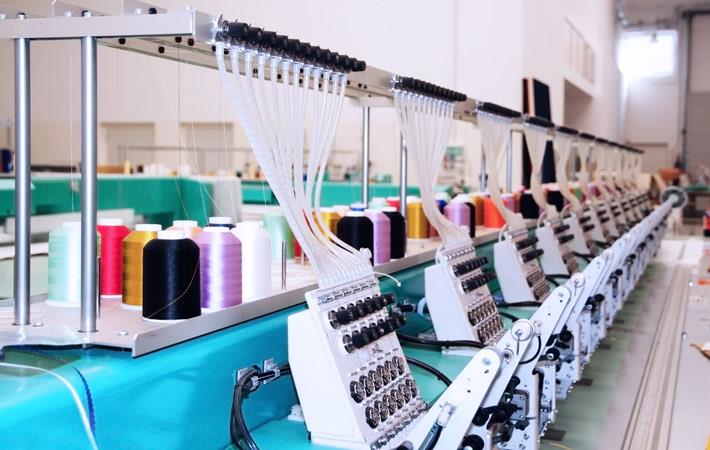 Textile machinery
According to the Italian Association of Textile Machinery (ACIMIT), there are approximately 300 companies in Italy that produce textile machines and related accessories, with a total of approximately 12,900 employees.
Italy is currently one of the main producers and exporters of textile machinery in the world. In 2020, Italian textile machinery production amounted to EUR $ 1.8 billion, of which 83% was exported to some 130 countries. Asia (38%) is the main export destination, followed by the European Union (23%), Europe (non-EU countries) (21%), North America (8%), South America (6%), and Africa (4%).
The supply of Italian textile machinery is characterized by a wide and complete range:
Pre-spinning and spinning machinery
Twisting and winding machinery
Pre-weaving and weaving machinery
Knitting and hosiery machinery
Dyeing, stamping, and finishing machinery
Dry cleaning and ironing machinery
Italian machines are focused on processing all-natural fibers, as well as artificial fibers, to give a correct answer to all the requests of the modern textile industry.
Final thoughts
In the opinion of Italian machinery importers, they confirm that the quality they offer in Italy is very good. In addition, the after-sales service is good, since there are trained personnel and marketers of the Italian brands here in Mexico. Regarding spare parts, depending on the sector and their complexity, they could be a disadvantage due to shipping times and costs.
In the opinion of Mario Arenas, Customs Agent of the DESCARGO Customs Agency, the Container Loading Supervision (CLS), also known as PRIOR RECOGNITION IN ORIGIN (Previo en Origen), allows obtaining and documenting variables such as brands, models, and numbers in advance, which, under the provisions of the Customs Law of our country, in the case of import and export of machinery, it is mandatory to declare them in the import pediments.
The foregoing is very useful since the machinery constitutes part of the fixed assets of the importing company or, in the case of commercialization, the brands, models, and serial numbers, will have to be determined in the first-hand sales invoices as well as the import petition number.
Additionally, the container loading supervision allows the importer and the customs broker to have a better perspective of the general conditions of the merchandise and its operation, which brings support for the correct determination of the tariff classification according to the rate of the General Import and Export Tax Law.
Likewise, prior knowledge of possible tools, accessories, and components that accompany import machinery avoids fines and penalties for merchandise not declared in commercial invoices and packing lists on which customs agents will have to rely on formulating import requests and thus make the payment of contributions to foreign trade.
Finally, the prior recognition at origin allows to determine and plan adequate international and local transportation, as well as to determine the types of maneuvers to be carried out with the machinery.
Sources:
ACIMIT. (2021). ITALIAN TEXTILE MACHINERY: SHARP REBOUND IN ORDERS INTAKE FOR SECOND QUARTER 2021. Retrieved from: https://www.acimit.it/COMUNICATI/2020-08-e.htm
ACIMIT. (2021). The sector. Retrieved from: https://www.acimit.it/PUB-E/settore-e.htm
ITC. (2021). Italy. Retrieved from: https://www.trademap.org/Bilateral.aspx?nvpm=3%7c381%7c%7c842%7c%7c85%7c%7c%7c2%7c1%7c1%7c2%7c1%7c1%7c1%7c1%7c1%7c1
SRE. (2021). Relación Comercial México-UE. Retrieved from: https://globalmx.sre.gob.mx/index.php/es/relaciones-economicas/comercio-bilateral
UCIMU. (2021). Condizioni prestazioni tecniche alla clientela, primo semestre 2021. Retrieved from: https://www.ucimu.it/news/v/2021/07/ordini-di-macchine-utensili-in-italia-nel-secondo-trimestre-2021/
UCIMU. (2020). UCIMU-sistemi per produrre: dopo il crollo del 2020, l'industria italiana costruttrice di macchine utensili robot e automazione vede la ripresa già nel 2021. Retrieved from: https://www.ucimu.it/press/comunicati-stampa/v/2020/12/ucimu-sistemi-per-produrre-dopo-il-crollo-del-2020-lindustria-italiana-costruttrice-di-macchine/#:~:text=Nel%202020%2C%20il%20consumo%20di,%2C4%25%20a%201.295%20milioni.