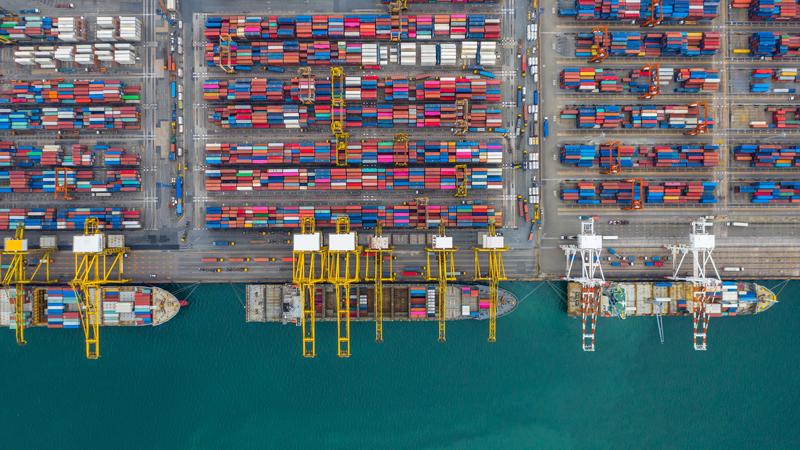 On Jan 15, weeks ahead of Spring Festival's typically high season, pickup trucks were snaking their way into the Shenzhen Qianhai Comprehensive Bonded Zone, ready to unload or load up containers.
It was in stark contrast to the previous hushed scenes at the Chinese mainland's first automated port upgraded from a traditional dock — Mawan Smart Port. The machines were operating themselves, with driverless vehicles picking up the containers and delivering them to the yards in an orderly fashion.
Working behind the scenes were about a dozen operators in the control building, sitting in front of panels in three aisles. It was about noon, with some taking their lunch break, while others had their eyes glued to the monitors to ensure the machines were running smoothly.
Mawan Smart Port Operation Supervisor Li Peng, in his 30s, was the leader of a roomful of operators, who used to work high above the ground in a small cockpit that can fit in no more than three people from a crane.
En route to world
The port has seen groundbreaking changes after it introduced smart elements to its traditional business. And the same system that benefits Li and his colleagues is poised to ease the work of more people working at ports along the Silk Road Economic Belt and 21st Century Maritime Silk Road.
Hong Kong-based port and logistics conglomerate China Merchants Port Group, which manages the smart port, aims to promote the smart model that has already been successfully applied at other ports.
Liu Bin, CEO of the China Merchants Port (South China) Management Center, said that after two decades of development, CMPort has developed a series of port and logistics IT solutions, including terminal and logistics park operations and management systems, such as Container Terminal Operation System, Breakbulk Terminal Operating System, and Logistics Park Operating System, and an innovative port community system — ePort.
In Shenzhen, the world's fourth-largest container port, CTOS handles almost half of the throughput, Liu said.
The self-developed smart system CTOS has been adopted at the port managed by CMPort in Sri Lanka.
"The successful application of CTOS at Mawan Smart Port has further helped to promote the smart-port solution in countries involved in the Belt and Road Initiative, especially at ports invested in and managed by CMPort," Liu said.
But the new technology needs time to integrate and develop in overseas ports, he said.
Last year, Port of Thessaloniki in Greece also signed a contract with CMPort to use the CTOS.
On the mainland, the smart solution is also being used at many ports, including those in the northeastern coastal province of Liaoning that are managed by CMPort.
The 5G-based smart solution has been deployed at No 3 Berth of the five-berth port since August 26. After three years of preparations, the traditional dock has been upgraded to a smart port.
'Groundbreaking' change
Li led a team of 24 operators handling ship-to-shore cranes and another 15 for container yards, who work three eight-hour shifts, with five people capable of handling two berths.
To Li, the change was groundbreaking. "It was unimaginable for us to fully complete the job in an office, just like white-collar workers," he said.
Mawan Smart Port has managed to fully automatize its operations, except for a few steps in between. One of these is for the operators to control the quay crane's gripper and have it precisely hooked up with the container on the ship to pick it up and unload it onto the driverless cargo vehicle.
Once a container is put on an automated driving vehicle, empowered by 5G technology and the high-precision Beidou Navigation Satellite System, it'll be delivered to the designated container yard, where the operators will then use automated gantry cranes to pick it up and put it where it should be. The latter part of the operation will be handled by machines, without any human intervention, except in an emergency.
5G technology is also applied in transmitting back images of the scene in real time so that the automated vehicles and containers can avoid ramming into each other.
All of these smart elements, including blockchain-based ledger system for port trade, 5G, Beidou-based satellite positioning and adopting low-carbon energy, were weaved together in a platform built on CMPort's homegrown CMCore operating system.
Li joined the port company as an operator in 2002. As a field crane operator, he usually works eight hours a day. He and his colleagues used to work in three shifts round-the-clock, with one person in charge of handling one crane.
In the old days, Li and other operators had to climb up about 30 meters into a control cabin and stay there for eight hours. Most of the time, climbing was the least arduous part. To operate accurately, Li had to look down through a see-through glass floor of the cabin to ensure that the machine was doing exactly what is needed.
Drinking too much water could be a problem for operators like Li — they had to ask colleagues to stand in for them so they could go to the restroom. Having lunch and dinner could also be a nuisance, but these problems are now out of the way with the new system.
Currently, one operator can control six rail-mounted gantry cranes in the container yard — a job that used to be handled by six operators.
Operators are also free from sitting in the cabin of ship-to-shore cranes, bending their necks to pick up containers. They can now sit inside a control room at the back, controlling the quay cranes using a handle on a panel when they have to intervene. They can also have lunch comfortably in the cafeteria along with other port workers.
The transition from the once-labor-intensive jobs has been smooth. For operators handling rail-mounted gantry cranes at container yards, it takes about one week to train them. For ship-to-shore cranes, it would be two weeks.
Li is convinced that with the upgraded automated systems, they won't lose their jobs as the new technologies will boost the volume of throughput containers handled by the port. Hence, operators will have more work to do.
Mawan Port, however, still has work that needs to be done traditionally, with more upgrading work yet to be completed. The upgraded berth is expected to enter service in the first half of this year.
Narrow escape
The port is lucky to have been spared the wrath of the pandemic that could have jeopardized its operations. The smart port has come at the right time. For the second half of 2020, its traditional berths had been busier than that of the previous year, according to Li.
With the mainland swiftly bringing the pandemic under control, factories and production lines have resumed operations, while manufacturers in other places are still struggling to cope with the public health crisis, Li said, adding this has fueled the nation's exports and imports trade.
For the second half of last year, the mainland's monthly port cargo throughput surged.
According to CMP Group, it handled container throughput of 55.5 million TEUs (twenty-foot equivalent units) in the first six months of last year, while for the other half, it saw a roughly 20 percent spike in throughput with 122 million TEUs for the whole year — up 7.8 percent year-on-year.
A higher container traffic surge was also recorded at other ports in Shenzhen. According to Yantian International Container Terminals, one of the busiest ports in the world, it posted a 2 percent increase in annual throughput year-on-year.
In September, Yantian Port recorded 1.46 million TEUs in container throughput for the month, setting a new world record in monthly container shipping volume.
On Feb 4, long lines of trucks waiting to enter the port to unload commodities were seen outside the port — a week before its typically busy season for Spring Festival — packed with containers of up to 300,000 TEUs. The Yantian Port said the backlog was mainly caused by the delays at European and the United States ports to take in shipments because of the pandemic.
Overseas ports were unable to handle cargo efficiently, with the containers clogged up around the world, while production lines on the mainland are fully back on track.
Transformation of China
Mawan's story has shown how well China — the world's factory — has transformed itself and evolved over the years.
Established on Sept 30, 1986, Mawan Smart Port was previously a bulk shipping port that contributed to the construction of the Shenzhen Special Economic Zone by shipping construction materials like rebar, concrete, sand and gravels.
The five-berth port, empowered by smart technologies of 5G, Beidou satellites and blockchain, is now tasked with spearheading the transformation of ports in the Guangdong-Hong Kong-Macao Greater Bay Area, as well as setting new standards for automated ports, Liu said.
The company sees closer collaboration between ports in Shenzhen and Hong Kong — a world traditional shipping center with an edge in software in terms of port management, business and trade and services.
For Li, a new era has dawned, with Mawan Smart Port thrusting the "Made in China" label onto a new stage by exporting it and having it copied around the globe.