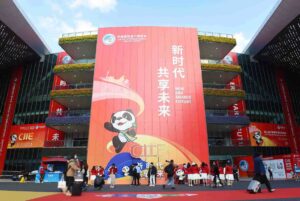 China to pursue high-standard opening-up, improved performance in foreign trade and investment amid ongoing pandemic
Countless containers await loading at the cargo terminal of Shekou Port in Shenzhen, Guangdong province, amid sustained global demand for Chinese exports-a testimony to the newfound paramount significance of supply systems and logistics in the wake of the COVID-19 pandemic.
"Our production schedule has been filled up till the second half of this year," said Mai Boliang, chairman and CEO of China International Marine Containers (Group) Ltd, adding that the company's employees didn't have much time to relax during the Spring Festival period as they raised container production volume from more than 200,000 units to over 400,000 units per month.
Similar to CIMC's move to work extra hours during the Spring Festival period to supply goods to global markets, a large number of Chinese companies have been doing the same to ensure the smooth running of the country's giant global supply chain.
Even though some media outlets and politicians in certain countries are accusing China of "seeking to dominate the global industrial and supply chains amid the pandemic",Mai said the country was busy accelerating common development and prosperity last year as it signed the Regional Comprehensive Economic Partnership agreement and completed talks for the Comprehensive Agreement on Investment with the European Union.
China will pursue high-standard opening-up and promote stable and improved performance in foreign trade and investment, said Premier Li Keqiang in the Government Work Report delivered at the fourth session of the 13th National People's Congress on Mar 5.
The country will open up more sectors of the economy in a more thorough fashion and participate more fully in international economic cooperation, according to the report.
With the push of the new dual circulation development paradigm, both China and the global economy will be better developed in open cooperation, said Yang Yuanqing, a deputy to the 13th National People's Congress, and CEO and chairman of Lenovo Group Ltd.
From a domestic perspective, economic development can no longer rely on the input of land, capital, labor and other factors, but must be more innovation-driven. This is inseparable from in-depth domestic and international cooperation, said Zhang Shuibo, a member of the 13th National Committee of the Chinese People's Political Consultative Conference and a professor of economics at Tianjin University.
"It is ridiculous for some people to relate the impact of the pandemic with ideological differences, because such deeds will harm the interests of all countries," said Zhang Yansheng, chief researcher at the Beijing-based China Center for International Economic Exchanges.
The pandemic has disrupted global investment and industrial chains, and China was able to register better-than-expected foreign trade performance last year simply because it was able to produce and export supplies to other countries after its strict and effective prevention and control measures over the disease were effective, Zhang said.
China was the only major economy in the world to achieve positive growth in the trade of goods in 2020, with its foreign trade growing 1.9 percent year-on-year to 32.16 trillion yuan ($4.97 trillion), said the General Administration of Customs.
The country also managed to restore export orders while stimulating domestic demand, leading to a rebound in imports, according to the GAC.
Zhang believes that it is significant for China to step up production and supply protective masks and other materials that are in dire need by people in other countries.
It is also worthy of notice that such an increase in China's exports, be they medical devices or personal protective equipment, is temporary as they are related to the pandemic, while the situation is expected to ease when vaccinations begin to work, Zhang added.
In addition to producing standard shipping containers that are 500 kilograms lighter than foreign containers and come with a cheaper price tag, CIMC's Mai said the company has already invented a high-end storage compartment featuring a constant temperature that can be transported by container vessels, freight trains or via airfreight.
Rafael Suchan, managing director and CEO of Scholz Recycling Group, a Germany scrap metal processing company, said China reacted quickly and decisively when the pandemic broke out.
The Chinese economy is reaping the fruits of these bold moves. The country currently is driving global economic growth which is crucial for all economies around the world. China's growth is crucial for a global economic rebound in 2021, Suchan said.
He said China has clearly shown that it is delivering on its commitment to opening-up. The signing of the RCEP and the conclusion of negotiations on the China-EU CAI show that other countries are confirming the opening-up efforts of China. These agreements have been signed and agreed to by both sides, and hence, the signing of such agreements is a powerful statement that all sides have faith in future prospects.
The message from the Chinese government that it is considering joining the Comprehensive and Progressive Agreement for Trans-Pacific Partnership further demonstrates the country's commitment to more open and inclusive growth, said the German company executive.
These free trade pacts can benefit many countries. For instance, the Cumulative Rules of Origin under the RCEP framework will substantially boost member countries' foreign trade and outbound direct investment activities in partner countries in the next stage, said Jiang Feng, director-general of the department of duty collection at the GAC.
The cumulative rules are applied when the production process of goods involves different member countries or regions under the same preferential trade agreement.
Jiang's sentiments are shared by See Chee Kong, minister of economic affairs at the embassy of Malaysia in China. He said with trade and investment barriers being removed, the RCEP is expected to generate fresh momentum for member countries.
The outbreak of COVID-19 was a surprise to all, but it is unfair and groundless to say China exploits opportunities from the pandemic while in fact the nation has been making great efforts to stabilize global industrial and supply chains for the containment of the pandemic and the world economic recovery, said Zhou Mi, a senior researcher at the Chinese Academy of International Trade and Economic Cooperation in Beijing.
Zhou said China always contributes to the improvement of the international economic and trade order through working with all parties to advance World Trade Organization reforms and fix its dispute settlement mechanisms, and supports the enhancement of international economic and trade rules and trade facilitation.
Under the impact of the pandemic, it is normal that companies choose to invest in markets where supply and industrial chains are relatively stable and market potential is huge. China achieved fast rebounds in economic growth and foreign trade after the shock of the pandemic last year, largely due to its attraction to companies because of the favorable policy environment and huge market, he added.
With an annual growth of 2.3 percent, the Chinese economy was the world's only major economy to have avoided contraction in 2020. Its 101.6 trillion yuan GDP is estimated to account for more than 17 percent of the world's economy, said the National Bureau of Statistics in late February.
Thanks to effective measures to contain the pandemic, the Chinese market has recovered faster than many others, and thus attracted many other trading partners to strengthen their economic and trade ties with China. For example, the Association of Southeast Asian Nations became China's biggest trading partner in 2020 amid upgraded free trade area protocols and supply chain cooperation.
As it is unlikely that the world will fully contain the pandemic over the short term, it is expected that new trade models such as e-commerce and artificial intelligence-empowered online transactions will become more effective. Industrial and supply chains need to be upgraded, Zhou said.
Faced with the pandemic, he said it is normal that sometimes there are misunderstandings among members of the international community. But it is important for different countries to cooperate, jointly deal with the crisis and seek development pathways, rather than point fingers at each other or resort to protectionism and isolation.
Due to the pandemic, many overseas manufacturers have either suspended their production or shut their factories to avoid health risks. This has further stimulated market demand for various industrial goods and daily necessities across the world, said Li Xingqian, director-general of the foreign trade department at the Ministry of Commerce.
Despite many Chinese companies raising their output, they also bore the pressure of growing labor and shipping costs, as well as price rises of imported materials to produce goods for stay-at-home products and other key goods.
Since China produced 40 face masks for every person around the world in 2020, no other economy could compete with the country in the global supply chain and the contribution it has supplied to the world's fight against the pandemic, said Li Kuiwen, director-general of the GAC's statistics and analysis department.
China had maintained its position as the world's largest trading nation in goods over the past five years, with its imports and exports taking up a record-high share in the global market. The country's total foreign trade rose 17.2 percent to reach 146.37 trillion yuan during the 13th Five-Year Plan period (2016-20), the GAC said.
With growing protectionism and the COVID-19 pandemic, global trade is more important than ever, said Javier Gimeno, senior vice-president of Saint-Gobain SA, a French industrial conglomerate.
"All countries and regions depend on open, transparent and rules-based trade to provide reliable access to essential goods and services to boost their economies," he said.
The company plans to open at least 10 plants during China's 14th Five-Year Plan period (2021-25) to ramp up its production capacity in China, in order to meet growing demand in both China and abroad.
Together with the growth of the Belt and Road Initiative, he said people living in less-developed countries in Asia, Africa and Europe will see new infrastructure projects grow and numerous jobs will be created in their markets. They will feel the tangible spillover effect of China's booming economy.
Source: ChinaDaily